After talking with drummer Nate Hough-Snee
overhere
it's time to see what vocalist Jeff Hess has to say about Sportswear, potential friends, Straight Ahead and the Right Idea.
Soon you will embark on your first European tour? What are your expectations? What do you look forward to? Have you or other guys in the band already toured Europe before? What tips did other guys gave you who already toured Europe?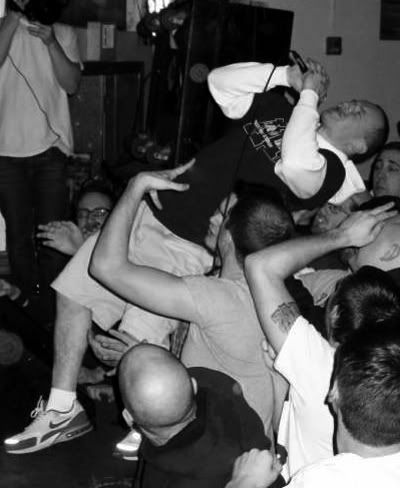 My only expectation is to meet people who can be potential friends, and catch up with some old friends I hardly get to see or have never seen at all but have written or emailed over the years. Would love for kids to have fun at our shows and stagedive if given the chance, but am just fortunate enuf to be able to reach out to new people through our music and words. I think I've gotten too much do's and don'ts over the years about Europe but I'm just hoping I can take in as much of the experience as I can while I am over there. Would love for anyone to show us around their cities too, European history has always fascinated me.
You're releasing a new 7" and a discography both on Refuse. Why did you choose to work with that label again? Most bands who release a discography are on the verge of breaking up, is that also the case with Right Idea?
I just want to point out that like 2 years ago we recorded Straight Ahead's unrecorded "Knockdown" and it is finally seeing the light of day. John did a pretty cool job with the solos in it. Still not sure if we should have released it, but def a great singalong song….if only more people knew it! Obv the lyrics change in that throughout SA's live sets, but these are the lyrics Craig Ahead had and are closest to their live recorded Albany set. Also, we do have a new comp song coming out on Crucial Response records aside from all the stuff on Refuse.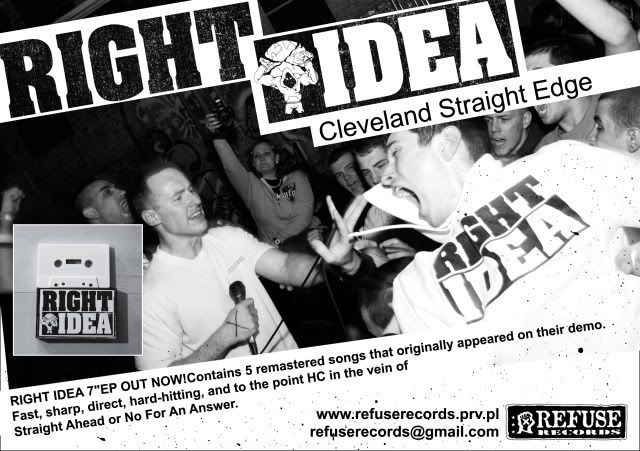 Lots of bands nowadays are very around online with myspace, facebook, twitter etc. So far the only thing I can find from you guys is the blogspotpage. Are you just lazy, don't you care about the use of internet to promote the band?
I dunno if we all agree on the corporate entities thing as much as just walking our own path, but agree it lets the music speak more for itself than the list of friends or even the individual band members themselves through comments. We each have our own lives and views but when we come together to share some common beliefs on stage, that is what is represented in Right Idea.
I know you had Mainstrike over when they toured Europe. So what is your experience with eurobands. Which bands from here do you like, have you seen?
Let me say up front that I would be the first guy in line for a Sportswear reunion, easily one of my fave bands from that era…not many of the bands from the late 90s held up well over time but Sportswear is an exception. Hell I even wrote a piece for Look Beyond Fanzine (rip) that was based solely on their opening track choice for each release, silly yet awesome of me to do.
It was def cool hanging with Mainstrike, Jigs and Johan and Suzanne Reflections for a few days and I have some great/fond/hilarious memories from our time together but that could be a whole other entry.
I have liked many a band from Europe over the years, it doesn't matter to me where a band is from, if they are good then they are good simple as that. Some standouts I guess for me would be obv Sportswear –all, Mainstrike, H-Street demo, the criminally underrated Abusive Action s/t, Insurance Risk for sure, Final Exit, True Blue, early World Collapse when they had the website with the piano music only and released like 1 song every two years ha, Tiebreak, Oil's first 7" I used to play a lot and would chuckle as I looked at my record collection, Damage Control, Strength Alone, Onward, Reaching Forward tape, tons more. Some stuff didn't hold up as well as others but Europe always seems to have a lot going on for themselves in the style of hardcore that I find myself continuously attracted to over the years.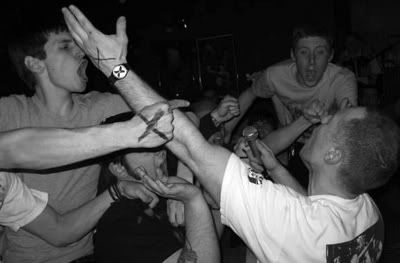 More recent bands like Dead Stop, Common Cause, True Colors, early One Voice, Justice, Loud and Clear, Balance, Regulations, Times Together, early Restless Youth, BOAF, etc have all got fair amounts of play in my house or car.
Excited to play some shows with some newer bands from Europe too, always cool to hear a new band you like. Sorry if I carried on with this one, I can talk about this one for quite some time. I am a big fan of art too, Europe has had it's fair share of great artists in the hardcore scene.
Right Idea plays straightforward oldstyled hardcore, does that also mean you'll only listen to old bands in the tourvan? What will be your toursoundtrack?
My playlist is all over the place. In the car now it's a collection of all newer bands, but usually on a tour I prefer some comfort I can find in the older stuff. That can range from Turning Point to Carnivore, Altercation to the Abused, Breakdown to early Shelter, YOT to Cro Mags, Raw Deal to later Unity, Agnostic Front and Warzone to Toots and the Maytals, Confront to Gut Instinct, BOLD to Suicidal Tendencies, and on and on…oh and the Spits.
Straight Edge is it a foundation, a way of life, something that comes natural?
Honestly, I only know I'm straight edge these days by others telling me or talking about it in my day to day life. It's been so long that I don't know any other way and def don't want anything else interfering with my ability to soak in everything that is the life around me, there are already enuf distractions. Some of my closest friends are far from edge and some even seem to be living life to the fullest so to each their own, but I've seen enuf misery and stagnancy to know that any other way than straight edge is not for me. Like the new song says, "my mind is FREE TO THINK!".