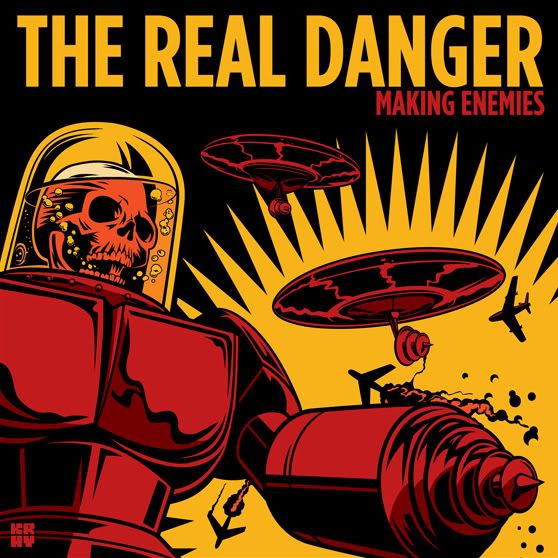 The Real Danger
shouldn't need an introduction.
Dutch melodic punk band THE REAL DANGER are DESCENDENTS and LIFETIME enthusiasts, and the styles of those two bands propel just about everything this band does.
is what
Pastepunk say in their review
of The Real Danger's excellent new full length 'Making Enemies'. If there is one record worth the title Summer Record of 2010 it is 'Making Enemies'. Enough flattery let's talk with frontman Michiel Walrave.
It seems during the shorter period that the band exists as The Real Danger you've gained more recognition than when you guys were doing Uppercut. Don't you ever feel you should have done The Real Danger sooner?
Not really. We did already start The Real Danger when we were still performing as Uppercut. As far as I can remember we did a couple of The Real Danger songs as an encore at one of our last Uppercut shows. We already knew that we were done with Uppercut at the time. Still I think we couldn't have started The Real Danger at a better moment than we did.
The main difference between Uppercut and The Real Danger, besides the style of music, is the addition of guitarplayer Sharkee. Why did you get him in the band?
Sharkee played in Uppercut for a while when our guitarplayer Robin accidently tried to saw of his hand. Me and Sharkee go back a long time. We were in bands together when we were 15 years old. He's also been in bands with Robin. I don't know anyone who is better in playing guitar so it wasn't a hard decision to ask him to join The Real Danger.
'Making Enemies' the new record receives awesome reviews. Wouldn't your rather be in a band that is able to tour for months in a row, thus really being able to promote the record.
To be honest I don't. Playing every weekend and short tours are perfect to me. There's nothing I like better than playing shows, yet my job is as important and as much fun. Besides we knew when we started this band we wouldn't be a fulltime touringmonster. We play in Belgium and Germany every now and then and we're able to play in Austria, Italy, Spain and French on two tour. We do have plans for more.
There's one coversong on 'Making Enemies'. Why that song?
That song 'Skip Steps 1&3' by Superchunk is a personal favorite of both Sharkee and me. I found out about the band in the early nineties through Alternative Nation on MTV and loved them for the start. My sister bought the record 'No pocky for kitty' and at the time it was the only thing I would play. To make a long story short, it's nostalgia and a really great song to do.
You've done artwork for many bands like Mental, No Turning Back as well as venues. Still the artwork for The Real Danger is done by other artists.
I did design some Real Danger shirts. When it comes to the artwork for our records I think it's more fun to ask someone that I think is a great artist to design it. I have a pretty good idea how I want to visualize The Real Danger and try and find the right artist who fit my ideas. In the end I'm still in control of the art direction.
Has Fat Mike already got in touch?
Some American labels did contact us, but Fat Wreck wasn't one of them. So far we have released three records on Shield Recordings and the good thing about it is that we know them well. Even more important is that it are great people, they work hard on the label and releases many great bands. The communication with the label is very good. Gert and Fieke just went on tour with us and I don't think we could have a better deal.
Did you make enemies on the latest tour?
We only made friends. The bassplayer of The Fake Boys, whom we were on tour with, did throw out some moron out of a venue in Innsbruck. But that guy tried to put something in someone's drink. As for us we behaved like the good boys we are.. I think.
Watch the tourvideo/clip for 'Cutting Ties' here